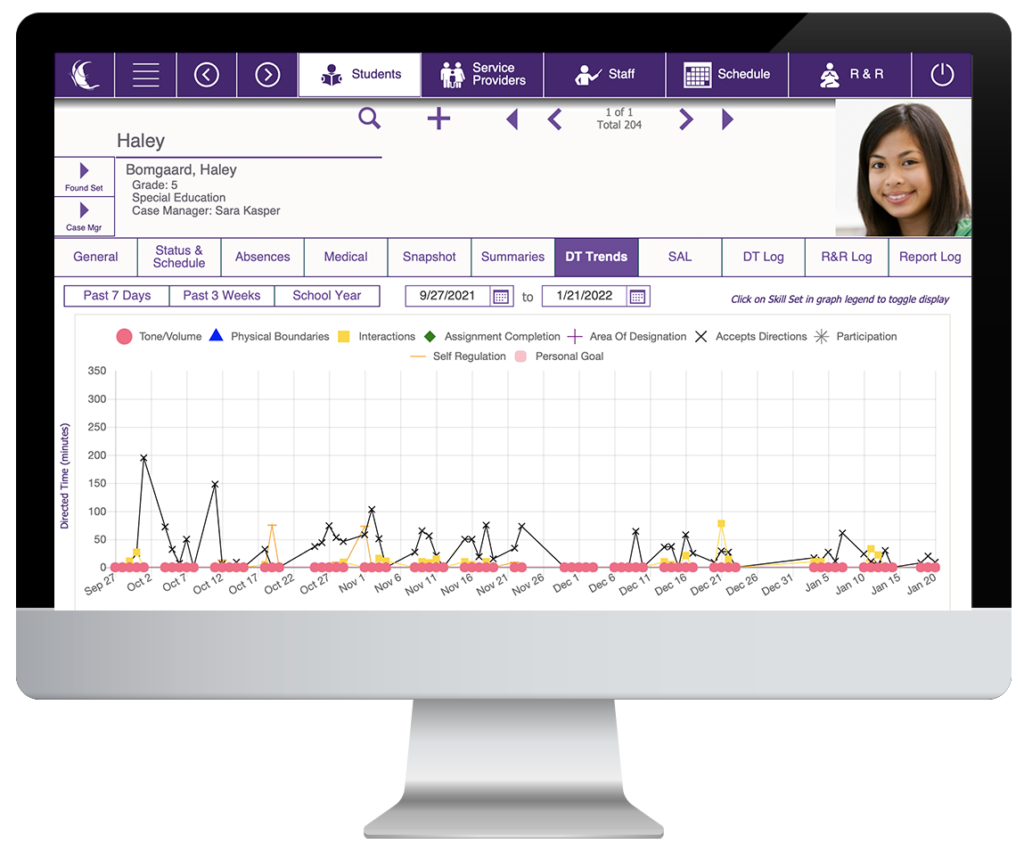 The Performance Tracking System (PTS) originated in 2000 to assist in quantifying the engagement and performance of students in the most restrictive educational programs.  It has been a pivotal and successful tool in assisting kids with significant and complex needs.  Over the last two decades, the PTS has continued to adjust in response to the needs of our students and our schools.  Currently, the PTS provides the necessary structure and support for social emotional learning (SEL) across multi-tiered systems of support (MTSS) in school districts.  It is a multifaceted tool that expands its support in congruence with student needs.
Teach to Heal has established Student Skill Sets that encompass what is necessary to be successful in school. The application of these skills, at a tier one level, simplifies the expectations for kids and the classroom management language for adults.  This consistency established through common language across classrooms, makes school a more predictable place for children who struggle in adult managed places.  The combination of predictability and regulatory practice allows students to maintain in the classroom and be engaged in learning which increases their academic performance.
Tier II and III applications assist students in self-monitoring, gauging their impact on themselves and others, and increasing their capacity to be guided by adults.  The PTS provides objective data regarding the conditions and circumstances that result in dysregulation or disengagement.  The adults are positioned to make informed decisions about what strategies to adjust and monitor student progress. This increases student's capacity to stay engaged and learning in the classroom.  The PTS also provides logs, summaries, and reports to support the coordination and partnership between school teams and other stakeholders.
The PTS will simultaneously do three things:
Increase student engagement.  (Tier 1-3)

The PTS will support and normalize the observation and practice of self regulation.
The PTS will increase the student's ability to self-monitor, increase their awareness of the skills they need to practice, and motivate them to attempt change.

Ensure objective, consistent, and purposeful language.  (Tier 1 – 3)

The PTS will provide staff with common language across classrooms when defining skills and the level of adult management necessary.
The PTS will release trained adults from bantering or repeating expectations which can lead to power struggles and additional barriers.

Provide data that guides instructional strategies, behavior modification, and progress monitoring.  (Tier 2 – 3)

The PTS will provide objective current data to be reviewed regularly to ensure common language and maintain forward progress.
For more information on Teach to Heal Performance Tracking System, please click here to contact Danielle Theis Consulting.